10 results found for "navio"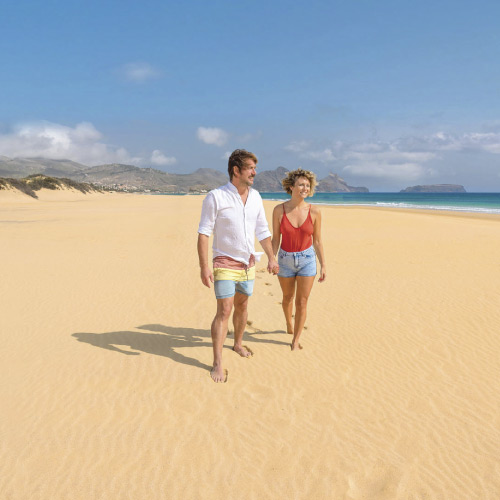 Trip to Porto Santo

Rexaling days in Porto Santo

Trip per way 11,80 euros*, Round trip 23,60 euros** (A1)
(A1) Price to be paid at Porto Santo Line's ticket offices, for passengers registered in the SIMplifica portal, of the Regional Government of Madeira OR final price after reimbursement of mobility social subsidy, exclusive for residents in Madeira. Fare valid until 31 March 2021.
* Price per adult, per leg, for round trips, in tourist class, on Lobo Marinho ship.
** Price per adult, for roundtrips, in tourist class, on the Lobo Marinho.

Mandatory for boarding in Funchal:
- PCR test for SARS-CoV-2 infection, with negative result, taken within 72 hours before boarding
- Identity card

The test can be done, free of charge, at the Regional Health Service, as established  in Resolution nº 116/2021 of the Regional Government of Madeira.
For more information: www.covidmadeira.pt
Porto Santo island
At a distance of 71 km from the island of Madeira, lies an Atlantic paradise: the island of Porto Santo! Come and Travel aboard the Lobo Marinho and visit the golden island.
Discover Porto Santo island
One day cruise

Discover Porto Santo in a one day trip Find out more

Discover Porto Santo

Explore the golden island Find out more

Cargo transport

How to transport your cargo or goods Find out more
WARNING:
FROM 1 TO 15 OF MARCH 2021:

Boarding at the port of Funchal, with destination to Porto Santo - mandatory presentation of:
> PCR test for SARS-CoV-2 infection, with negative result, taken within 72 hours before boarding
> Identity card
> Ticket

Exceptions:
> Children up to 11 years old
> Residents of Porto Santo following a period of up to 7 days stay in Madeira island
> Travellers who have already had Covid-19 and present a medical document certifying that they have recovered, issued in the last 90 days OR certifying that they have been vaccinated against Covid-19

How to do the PCR test?
> The test should be booked at the Public Health and Emergency Unit, at least 4 days (96 hours) before the travel date, through the website: www.madeirasafe.com
> This test does not cost anything to the traveller